Moblogging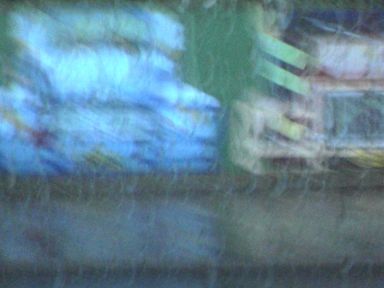 So if blindly pressing the capture button on your camera-equipped PDA whilst driving counts as Moblogging, then count me in.
There is a mural on the railway viaduct that runs alongside The Cresent at Annandale in Sydney. It (the mural) has been there for as long as I can remember. It has gotten a bit tired and faded over the years, so the council (or someone) has taken to freshening it up a little. Which is nice.
Trucks are depicted in the mural, and I noticed this morning that the number plate on one of the freshly-repainted trucks is "DUB-04". Could have sworn it wasn't like that on the original!
Being bored at the traffic lights I thought I would take a picture of it. But then the lights turned green and I drove off, simultaneously taking this shot in a reckless display of disregard for the safety of my fellow motorists. Turned out to be one of the best shots I think I've ever taken (with a camera-PDA). Which isn't saying a lot.