Childhood illusions shattered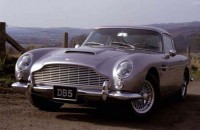 You know, I didn't mind so much when Top Gear tested a 70s-era Lamborghini Countach and found it to be a noisy, brutish, pig of a car. Even at age eight, I was never that infatuated with them. According to my recollection of that most credible automotive authority, Top Trumps, the Panther Six could beat it anyway.
At that age I remember being more impressed by the Astin Martin DB5, which — I shouldn't have to point this out — was Bond's car in Goldfinger. It was an infatuation that probably had more to do with gadgets than the car itself. Anyway since then, I've always longed to drive one of these beautiful machines. As a teenager I even got to sit in one.
The Broccoli family, who have been the custodians of the Bond franchise over the years, have obviously had the same nostalgia for automotive classics, and re-cast the DB-5 in the role of Bond's car in Goldeneye. In a hilarious scene he races the antique DB-5 against a modern Ferrari F-355, and beats it.
Recently though the Top Gear crew turned their attention to the DB-5 and put it through its paces. It, and the Jaguar E-type, were track tested and found to be severely wanting in all areas but appearance. What modern-day competition did they pick for the DB-5 to race against? An F-355?
No. A Honda Accord. And the Accord thrashed the DB-5.
The sound you are hearing is that of childhood illusions shattering.