Nokia N70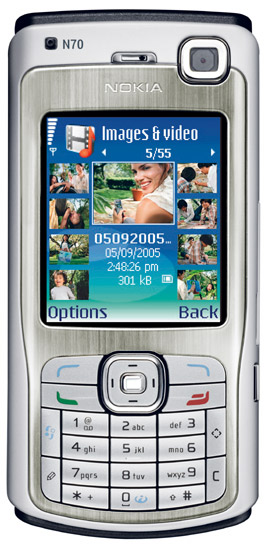 Lets get this out of the way first. The new Nokia N70 phone is no iPod.
By that I mean that the N70 is not as polished (literally or figuratively), easy to use, or just as beautiful as the Apple product. Which is not to say that it's ugly or anything, just that the bar is set pretty high for the toys-that-fit-into-my-pocket category. I think also Nokia would like to see themselves in the same category as Apple, and to be honest they're not there yet.
Is it a fair comparison? Well obviously if you need a phone the iPod isn't going to cut it. And (as we shall see) the N70 is far from an ideal music player. However I'm viewing the iPod as the current champion of industrial design, and Nokia's creation as the challenger.
I bought this phone on the Three network, and I'll defer commentary about the service to another post. For now, let's just concentrate on the phone itself.
Bear in mind that I am not a mobile phone geek. My last phone was a Sony Ericsson T68i, purchased over 4 years ago (obviously I didn't abuse it enough). 4 years is an eternity in mobile phone land, and much has changed in the meantime. Back then it was: "why would I want a camera in my phone?". Now I'm all: "I need 2 megapixels, minimum".
So if you want a thorough review of the N70 written by someone who is up-to-date on latest mobile phone technology, try my friends at gsmarena. For a non-phone-geek take, read on.
Physical
Packaging: Yes, it's important. I am not a packaging fetishist, but a lot of people are. Apple products are generally packaged so beautifully that opening the box feels like you're violating its virginity. OK maybe not. But the point is that noone's likely to get too excited over Nokia's packaging. Which is something they're going to have to fix if Nokia wants to be seen as hip and happening.
Design: The unit itself is handsome enough, with the silver and black plastic body accented with a metal frame around the screen. It's not going to be iconic like an iPod but neither is it going to be ridiculed in 10 years time. On my unit the metal frame around the screen is coming away slightly from the rest of the casing, particularly at the top of the screen. I don't know if that is a fault with my unit or a more common problem.
Form Factor: I prefer the candybar design to the clamshell, but that's just personal preference. The only gripe I have about the form factor is the camera lens cover: it's way too easy to open and expose the lens to the lint in your pocket. Also it's a touch heavier than you expect it to be.
Screen: The screen is big and bright. The resolution is 176 x 208 which would be more than enough to display anti-aliased text. If it had that ability. Which it (apparently) doesn't.
Buttons: The buttons are very easy to use, especially the four-way controller. My last phone was a Sony Ericsson, and it had a terrible four-way controller. The N70 one is much better. The N70's keys are backlit in blue which looks nice except that it's very difficult to tell which is the green button for answering a call and which is the red button for terminating a call; they both light up blue. The power button is on the top and is (understandably) more difficult to press than the rest. There's also a camera button on the lower right which is quite handy when you hold the camera horizontally for a landscape shot.
Speaker: On the top of the unit is a speaker which is capable of playing really loud. The sound quality is surprisingly good, for a phone. Which is to say, terrible, but sufficient for a ringtone or speakerphone call.
Expansion: On the side is an expansion slot, with a very flimsy looking door. Of course it's yet another flash storage format that you won't have heard of before. Apparently it's MMC Mobile Dual Voltage. Kindof like a Secure Digital card cut in half. In fact there's a wierd caddy thing you can use to mount the memory card in a card reader, if you have the dexterity of a microsurgeon, that is. Fortunately the plummeting flash memory prices make it less of an issue to adopt the storage format du jour whenever you get a new pocket device. I got 1GB of storage for about AUD100 off eBay.
Headset: The N70 comes with a headset which attaches to the (for want of a better term) "dock" connector at the bottom. The cables themselves are made of some rough grey plastic that look extremely durable. If the white iPod earbuds convey the impression of an urban hipster, the Nokia headset brings to mind a blue-collar worker. There is a microphone, which forks to two earbuds which actually sound reasonable. I would have liked a hangup/answer button as well, but you can't have everything.
The headset was incredibly confusing at first. Coming out of the largish microphone "pod" are two very long earbud cables with a strange looking ringlet and clip thing in the middle. It turns out that you snap the two clips together behind your neck, which brings the microphone up to throat level like a necklace, and allows one or both earbuds to be worn without the weight of the cord pulling them out of your ear. The ringlets are used to stop an unworn earbud from flapping about the place. It's hard to describe, but works pretty well.
And for the times it doesn't, I bought a simple adapter for a regular 3.5mm plug off eBay for like $15 or something, shipped.
Cable: A USB cable is provided which, like the headset come to think of it, is quite difficult to insert. For starters it's not immediately obvious which way round it goes. And even if you do get it right, it's too easy to jam it in at a crooked angle. I'm just waiting to bend the connectors on this cable soon. Maybe I already have? (see below). Again, nowhere near as good as the iPod connector. Fortunately I don't need to use the USB cable that much.
Manual: Yes it has one. But it's terrible. The index does not contain the word "Voicemail".
Features
Voice Calls: Look, if Nokia didn't have this function down pat by now, they would have gone out of business. Suffice it to say that the N70 has all the features you'll ever need for making and taking voice calls. The software to navigate your contacts and view recently made, recieved and missed calls is excellent. Audio quality is also quite acceptable, even on speakerphone.
A big plus in favour of the N70 is the ability to handle many audio formats, including MP3 and AAC. Hence to set my ringtone, I just bluetoothed an AAC file from my iTunes library (I Saw Drones by the Boards of Canada) to the phone, and navigated the menus to "set as ringtone". Very easy.
SMS Messaging: Also pretty much in the bag. Text messages are very easy to send and receive. It supports templates, text reply to incoming voice calls, dictionary typing, drafts, folders, everything you need.
Video Calls: These are fun, but not compelling. Maybe I need to play with it some more.
Camera: The value proposition for cameraphones is that they allow you to get a shot when you don't have a real camera on you. Ubuquity, not quality. I have kids, and when they're doing something that will be sufficiently embarrassing for them on their 21st birthday, it's great to be able to whip out the phone and take a snap. The N70 is excellent at this because the camera software is activated simply by opening the lens cover, meaning that I can get a shot within seconds of pulling the phone out of my pocket. I don't know how this compares to other cameraphones, but it's hard to imagine it being any easier.
Aside from the problems with dirty lenses (see above), the images are pretty reasonable quality too (check out the samples at gsmarena). Compared to a regular digital camera — even an old 2 megapixel one — the pictures are nowhere near as good, but for a phone I think they're pretty good. I haven't tried printing any pictures out, but they look good on-screen. OK it's 2 megapixels, but surely noone pays attention to that any more? By my reckoning you simply don't want much more resolution in the sensor because the optics are so (necessarily) poor.
The only complaint I have about the camera is that it takes quite some time to save the image to storage, so if you want to take lots of shots quickly, you're out of luck.
Radio: I have no idea whether this is any good or not because it requires support from the carrier to activate, and my carrier doesn't support it. Yes that's right, you need support from your carrier to listen to the radio.
I don't know why it's like this, maybe they stream the audio to you over the phone network? Big thumbs down to Nokia for designing it this way. What's the matter with a regular FM tuner?
[Update: OK I was wrong. Support from the carrier is required to download the list of stations in the area so that you can select them by name. In the meantime it is possible to tune the stations manually. The trick is to ensure that the headset is plugged in (it's an antenna apparently). So I guess this is a reasonable design, but I still think it could have been produced more user-friendly error messages (eg "plug your headset in" instead of "what is your visual server name?")]
Connectivity
Bluetooth: The N70 supports a number of different Bluetooth device profiles, and support from MacOS X seems quite complete. Synchronising Address Book and Calendar with iSync used to require some hacking, but with the recently-released version 2.2 it works fine; even pictures get sent along with contact details!
I can also send SMS messages and dial the phone from Address Book, transfer files and applications with the Bluetooth File Exchange, and use it as a modem for wireless internet access (more below). The really cool thing about Bluetooth is that this all happens with the phone in my pocket. Oh yes. I've yet to try out Sailing Clicker, but will let you know when I do. In short, Bluetooth works great.
USB: Unfortunately here's where it all goes pear-shaped. For starters I have a hell of a time actually getting the N70 to connect to my PC. Every time I've tried it takes 5-6 attempts, plugging and unplugging into various USB ports at the back of my PC. I don't know if there's something wrong with my PC, the phone, the cable, or the passing sunspots.
When I finally do get it connected, there's more bad news. The N70 isn't a USB Mass Storage device. Which means that you can access files on the phone using the Nokia PC Suite (Windows only) or through a memory card reader. Or not at all.
This is pretty disappointing. There's no reason that I can think of why the N70, and the memory card contained therein, shouldn't just appear as removable USB storage to the host OS. But no, you have to use the bloody Nokia PC Suite. This installs itself into your Windows Explorer so that you think you have directly connected storage devices (confusingly named C: and E:) but in fact any access to the phone storage goes through the Nokia PC Suite (more below).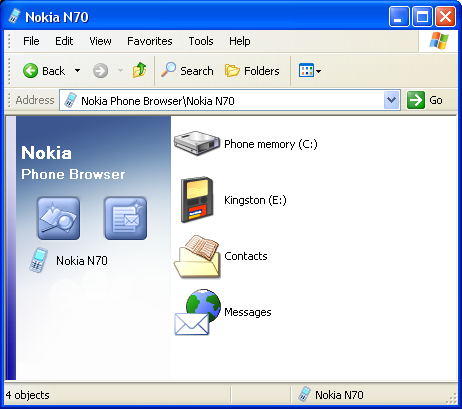 Why is this bad? Well obviously because I want to write scripts and utilities that read and write to this storage. Like, oh I dunno, maybe an app that downloads my favourite podcasts and plonks the latest episode onto the phone's memory card. Or randomly pick a new wallpaper (background) image. Or … oh forget it.
It's great that my phone plays AAC files but to transfer them across from my iTunes library, here's what I have to do: Take the RS-MMC card out of the phone; insert it into its little caddy thingy that makes it the size of a SD card; insert into my card reader; run Copy Playlist to Card; unmount; extract the card from the caddy; put it back in the phone. Sheesh.
According to the wikipedia article linked above, it's actually fairly difficult for a device to be both a USB mass storage and any other kind of USB device. However it would be nice for Nokia to provide a choice…
Nokia PC Suite: Aside from the filesystem explorer mentioned above, the Nokia PC Suite includes:
contact synchronization (I never used it);
backup/restore;
application install;
image store (i.e. download from the phone to the PC, not the other way around);
wallpaper maker (which crashes);
message sender (not synchronized to the phone); and
music transfer program (awful)
Of the lot, the image store is the only one I use with any regularity (USB connection problems notwithstanding).
Mobile Internet: One great thing that the phone can do is access the internet via UMTS. The phone itself has a built-in browser, and it can also act as a modem for a computer. Speeds I have seen are quite respectable, in the 10-100 kbps range (going by feel).
Printing: Apparently it can print directly to PictBridge-capabile printers. I don't know why you'd want to. Surely any shot worth printing is worth sanitising in Photoshop first?
Infrared: There is none. Oh well.
Operating System
One of the big pluses in favour of this phone is the Symbian operating system. This is an open (ish) OS which allows third party developers to create apps to run on the phone. There's even a version of python. I'll just focus on the default applications for now.
The Symbian phone supports a mostly-intuitive menu system. The most often-used apps are piled into the main menu, and the rest are sorted into five sub-folders: "Imaging", "My Own", "Connect", "Office", and "Tools". The last-mentioned folder contains settings for the phone, but they are distributed across a half-dozen different applications. For instance, there's a "Settings" app which has most of the phone settings, but there's also a "Media Key" application which is responsible for … you guessed it … setting the application to be launched when you press the media key. The other "standby mode" keys are set from within the Settings application. There's a Voicemail app which lets you set the voice mailbox number (really just a speed dial), but there's another app just dedicated to setting speed dial numbers. And there's a section in Settings to activate the speed dial. In short, it's a bit of a mess. This is perhaps because there's a rather blurry line between the core operating system and phone functions and the other applications. Regardless, Nokia need to sort this out.
Multiple applications can be launched, and you hold down the application key to bring up a menu to bring one of them to the front.
One last gripe is the standby screen. This is displayed when the phone is idle, and shows the current service status, battery status, cell info, etc. It also displays a clock which is configurable to analogue or digital, but in either mode is almost completely unreadable at a glance. Doh.
Applications
Gallery: This is an app which lets you browse images and video. Rather mysteriously it also acts as a launcher for the audio player and web browser. And video, come to think of it. Really this is just an image viewer with a bad media navigation tool grafted on.
Navigation is basically linear through the images and videos you have stored on the phone, in filename order. I suppose that in the days before cheap gigabyte memory storage this was a great idea, but these days forget it. You can organise the pictures into albums, but this is painful. How painful? About 5 button presses per picture painful. The PC-based software is no help here either.
Anyway once you've navigated to the pictures you want, the N70 relatively good at showing them. There's a slideshow mode which shows the pictures in a landscape orientation and is quite watchable.
There's also an edit mode which looks quite impressive, with a crop and other effects. No I haven't tried it, I have Photoshop.
Real Player: Handles all of your video playback needs. Requires the usual amount of video code mojo to make it look acceptable. I think the secret is in the bit rate. Regardless, after a bit of tweaking I was able to get QuickTime to export an episode of Rocketboom to an MP4 file that was jerky, but watchable, on the N70.
Music Player: The default music player is basic, but does the job. It can playback MP3 and AAC files, either sequentially from the filesystem, or through a .m3u playlist. There's a shuffle play as well. It suffices.
Web Browser: I confess I bought this phone thinking that I'd never use the mobile internet features. However the costs have dropped from the extortionate to the reasonable, and so now I find myself using it all the time, despite its flaws.
Whereas modern desktop browsers seem to pour the content onto the screen with liquid smoothness, the N70 browser is sluggish and constantly redrawing and overwriting itself. It's a bit distracting, because basically you have to wait until all the content has been retrieved before the page is viewable. But it generally does a good job, particularly on websites that are optimised for mobile browsers: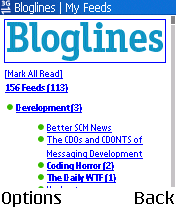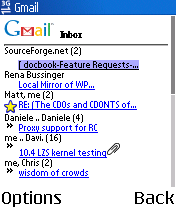 By the way, it's really great to sit on the train and read your gmail, or access bloglines to catch up on your reading. Gmail's mobile interface is great, however bloglines needs some work. Far too much scrolling required.
And scrolling is bad whatever site you're viewing because the N70 browser will only scroll a line at a time. Unless there's a page-by-page scrolling key that I couldn't find. Browsing websites on a small screen is painful enough, let alone having to scroll slowly. Also there's no way to quickly scroll to the top or bottom of the page, again unless I'm missing something.
My other main gripe about the web browser is that it doesn't allow you to change web access points without restarting the browser. This is odd because it lets you associate an access point with a bookmark. Changing access points is something I do regularly now, because my carrier provides a walled garden of content — including my account details — which is only available through their special access point. And of course the rest of the internet is available through another access point. Going from gmail to my account details requires a browser restart. Doh.
Games: There's a noisy snowboarding game and a snake game, both gratuitously 3D. More importantly there's a whole mess o' card games to keep my reptilian brain occupied while standing in line at the supermarket.
Lots more: The N70 comes with a lot of other applications, some of which I can't even tell you about because I haven't tried them yet. Office viewers, file managers, etc etc. And the third-party library of software is huge. If it's possible to do on a phone, you can probably find it for the Symbian OS.
Still Waiting for the iPhone
Overall I like this phone, but still think that Nokia could extend themselves further. On the one hand I'd love for Apple to come out with their idea of a iPhone, but I'm pretty sure they would never have an open operating system like Symbian. I think Nokia have plenty of potential as long as they continue to leverage the third-party development community. However they do need to put some effort into the phone; in a word, polish. Even though it's only the geeks and anal-retentive types like me who type up their experiences on the internet, I'm pretty sure that the weird limitations, inconsistencies and ugliness that spoils an otherwise brilliant device do not go unnoticed amongst the non-geek user base. In the meantime we can always dream about the iPhone…