Bad Company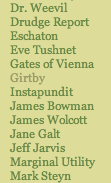 Being added to someone's blogroll is usually quite a sincere form of flattery. But I just can't help but wonder if there's been a mistake of some sort here.
Ernie Chambers has me added to his blogroll of almost exclusively right-wing whackos like Instapundit, Powerline and Tim Blair. Surely Ernie can't mean to put me in with that lot? It must be a typo.
And ooh it makes me wonder. Maybe there is a right-wing politics blog which is only a typo away from girtby. It wouldn't be the first time that questionable content had come uncomfortably close.