iDefend iTunes
Why do some Windows users hate iTunes so much?
I can't understand it myself. I think a lot of the angst directed towards iTunes is misguided. Or misinformed. Or overstated. Or just a matter of taste. Hear me out.
Resource Hog
A common complaint about iTunes is that it is a memory (or resource) hog. But compared to what?
I think you have to compare Apples with apples. Yes, Winamp 1.0 uses much less CPU than iTunes does during playback, but it's not exactly a fair comparison is it? Besides just playback, iTunes does importing, organisation, searching and browsing of your media library. Not to mention visualisation, device sync, podcast downloads, CD burning, metadata editing, etc etc. Now of course you could make an argument that iTunes does too much and I will agree, but this is different to saying that iTunes consumes too many system resources for what it does.
So if we pick Windows Media Player 11 as a comparable application, and import the same (fairly modest) collection of music into both WMP and iTunes, how many resources do they each consume?
iTunes 7.5: During playback, CPU usage doesn't get over 2%. Working set fairly constant at 58MB, of which 39MB is private.

WMP 11: Similar CPU usage during playback, 1-2%. Working set seems to vary a lot more. I initially observed it at about 47MB, with 23MB private. But then it seemed to drop down to around 32MB total with 16MB private.
Relatively, there's a fair bit of difference between the memory usage of these two, but in the scheme of things neither of these programs are using significant amounts of memory. iTunes increased memory usage can possibly be explained by the high-resolution cover art, which WMP only displays scaled down. Unless you're trying to run it on an ancient, low-memory, machine neither of these is going to be noticeable. If you load up a larger library into iTunes, I believe the memory usage will go up accordingly, but I haven't tried to quantify this. An exercise for the reader.
Ah but wait, you may be wondering, what about all of the other background processes that Apple have inflicted on its users? True enough, besides iTunes.exe I count 4 other Apple-sourced processes running on my Winbox: iTunesHelper.exe, iPodService.exe, AppleMobileDeviceService.exe, and mDNSResponder.exe. None of these are using more than about 4MB of working set total. Most of what they do use is shared; I'd be surprised if combined total memory usage was over 10MB. And the CPU use is negligible.
Again you could argue that 5 processes is too many (and I'd have some sympathy for this) but it's not as if you're going to notice their presence on any reasonable hardware.
Inconsistent User Interface
There's no doubt that iTunes does not look like any other Windows application, and in general this is a bad thing. The fact that almost no other media player seems to feel the need to follow the Windows UI standards is irrelevant (but hard to ignore). The point remains: each and every application should present an interface that is consistent with the relevant OS standards and guidelines.
However I would argue that much of the iTunes interface is consistent with the Windows UI standards, in position and approximate appearance. Overall there's the funky grey look designed to mimic the MacOS equivalent, but it's hardly a barrier to entry. OK it's different, but it's still roughly usable and (I think anyway) quite attractive. The scroll bars and window resize handle are straight outta Macdom, but they still look similar enough to their Windows equivalents (and also subjectively attractive) that, practically speaking, are not going to cause any significant usability problems.
Similarly, it's got a window close box which is easy to find and looks like a Windows close box. The menus are in the title bar, but they still look roughly like Windows menus (unlike some Microsoft applications I could name).
The menu structure mostly follows Windows UI guidelines. There's "File", "Edit" and "Help". The preferences dialog is in the "Edit" menu where Windows users should still be able to find it. You might be able to make a case that "Get Info" is too dissimilar from the standard "Properties", but overall it's pretty standard.
Where iTunes might deviate from expectations is in the UI elements that are specific to its domain of media playing. But here is where (I would argue) that the Windows standards are a lot less, well, standard. Look at Windows Media Player. Or, rather, don't. The point is that there really aren't any well-defined Windows UI standards for media players to follow, so it's hardly fair to criticise Apple for not following them.
In my opinion, it is absolutely fair to criticise Apple for designing new UI controls that don't look like they are controls. The status display at the top of the player window looks vaguely like an LCD display from a real-world device. But, unlike such real-world devices, it can be manipulated. Click the little "play" triangle to toggle the display. Drag the diamond (why a diamond?) to scrub back and forward in the current track. And so forth. These are (IMHO) quite unintuitive given the appearance, and are probably the worst of Apple's UI sins with iTunes.
Reading between the lines, I think this gets to the core of Julian's complaints. In absence of official UI standards, Apple have invented their own. And in my view there is absolutely nothing wrong with this. We can argue whether or not the invented UI elements are successful or not, but really Microsoft should be setting the standards for their platform in the first place.
It Messes Up My Beautiful Directory Structure!
Umm. No it doesn't.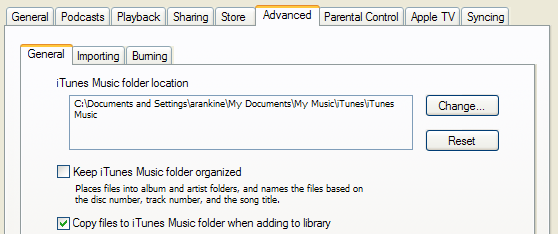 Just uncheck the "Copy files" checkbox before you add your music to the library.
There may be an argument to make this checkbox unchecked by default, especially when importing a large music collection on first startup.
It's Ugly and it Smells Bad
Some other objections to iTunes are:
It doesn't understand WMA. No, it doesn't, and I'm this is frustrating for those with large collections of WMA-encoded music. Think of it this way: the sooner you convert your collection to an open non-proprietary format such as MP3, the happier you'll be.

It updates too frequently! Damn those Apple developers for continuing to improve and fix their product.

I hate the iTunes Store and their DRM! Don't use it then. Get your music from elsewhere, like bleep or Amazon, or those round plastic receipts you keep in the closet.

It doesn't support my (non-Apple) player! Oh please.

It is the bearer of bad tidings. Your iPod is going to die sometime. iTunes is likely to deliver this message to you. Don't shoot the messenger.
Does that cover everything? Look I'm not trying to say that iTunes is the be-all-and-end-all of music players, but it does seem a bit odd that Windows users are particularly sensitive to its flaws.
Please feel free to disagree below.